Moylan Marketing Consultants is an Aerospace Marketing firm based in the U.S. in southern California.
Our mission is to provide clients with unique and versatile marketing methodology, and exceptional technical support.
Our company was borne on a team of experienced aerospace professionals and marketing executives working together in the industry for more than 25 years. We've built a solid network of relationships with mid and executive management of the world's most successful commercial airlines, regional carriers, corporate operators and OEMs. Our expertise extends across cockpits, avionics, flight controls, systems, components, and electro-mechanical products used for both fixed and rotary wing, manned and unmanned aircraft in civilian and military applications. Our clients around the world rely on us for business development, sales and marketing, public relations, investor identification and product support.
Bringing new aerospace products and technology to market effectively and efficiently is both an art and a science. At Moylan Marketing we're accomplished at both. Call us today and let our team help you take flight.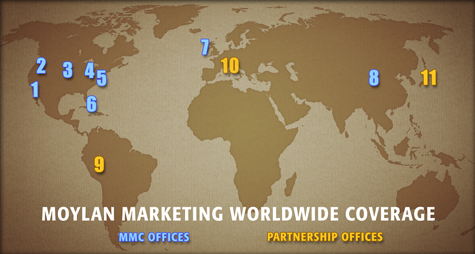 Headquarters, Dana Pt., CA
US Pacific NW Office, Portland, OR
US Central Office, McDonald, TN
US Northeast Office, Chester NH
US Eastern Office, Washington, DC
US Southeast Office, Naples, FL
European Office, London, UK
Asian Office, Beijing, China
Paccess, Lima, Peru
Walker Aviation, Toulouse, France
Paccess, Tokyo, Japan

"Whether you think you can or you can't, you're right." - Finlay Moylan